28/05/2023
Sizzling Sun, Stunning Strikes, and Sublime Soccer Skills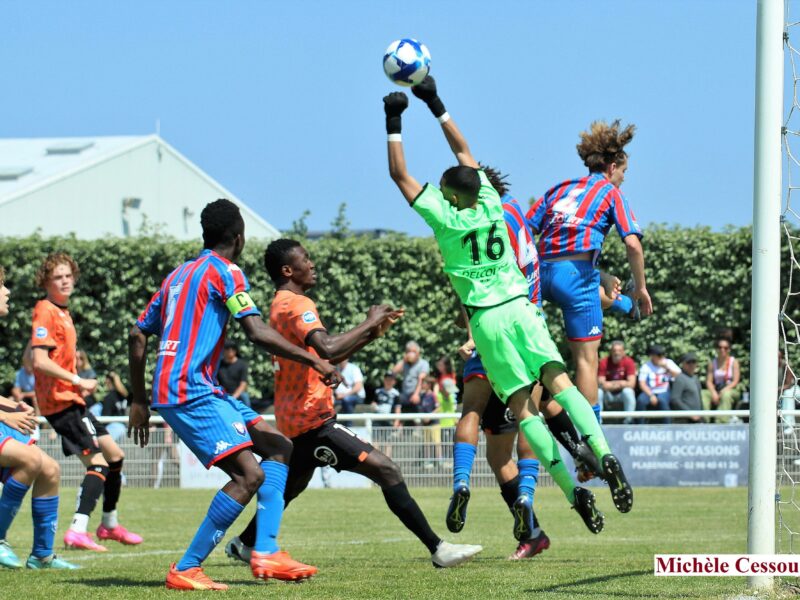 For the first day of the Festival d'Armor, the U15 and U17 players enjoyed ideal conditions, with plenty of sunshine, 20 degrees and a light breeze. There were plenty of spectators at the Trémeur stadium.
The Festival d'Armor got off to a flying start with the clash between the two U17 finalists from the previous edition, Stade Brestois and RC Lens. The Bretons dominated the first half, but came up against the Sangs et Or's excellent goalkeeper, Yael Mendy, who made three decisive saves. The defending champions pulled themselves together in the second half, and they scored the first goal of the 39th edition. Brest came back into the match with a thrilling header from Axel Bargain. A little later in the day, Olivier Auriac's players beat KAS Eupen (2-1).
The Breton clubs were in the spotlight with victories for En Avant de Guingamp (1-0 against Valenciennes and 1-0 against CFC Academy of Senegal) and FC Lorient (2-0 against Stade Malherbe de Caen and 5-1 against Beirut Football Academy of Lebanon). For EAG, Kyliann Fofana scored both goals. The Finistère team, semi-finalists in 2022, also stood out. They defeated Mohammed VI Academy by scoring the only goal of the game in the final minutes. They will now face Stade de Reims and SCO d'Angers tomorrow.
With seven countries represented (Lebanon, USA, Belgium, Portugal, Morocco, Senegal and France), this year's Festival d'Armor confirms its status as an international tournament. And some of the teams showed off the full extent of their talent in 100% international matches. The youngsters from Senegal's CFC Academy demonstrated their talent against the Americans from Kansas FSA. Thanks to the speed of their full-backs and their technical mastery in front of goal, they won the match 2-0. In Group C, Portugal's Braga decisively beat Lebanon's Beirut Academy 3-0.
In the Paysages d'Iroise U15 Challenge, Stade Rennais dominated their matches, winning 7-0 against hosts US Plougonvelin and 3-0 against FC Frileuse. Rennes, last year's winners in the U15 category, share top spot in their group with Hasparren FC. The Basques also won their two matches of the day (1-0 against FC Frileuse and 4-0 against USP). Results for the other Challenge Paysage d'Iroise groups can be found on the Festival d'Armor website.
"The youthfulness shines through on this first day! The thousand or so young players present at the Festival d'Armor excellently showcased their skills. As for the volunteers, they demonstrated their responsiveness, good humour and enthusiasm. It was a real pleasure! We hope that the footballers continue to play fairly, and that there are as few injuries as possible, and that the referees will continue to be respected" confides Loïc Le Ru, President of the Armor Festival.
.
We're hungry for what's to come! Bring it on!
Maureen LE RU